Defi Xpress Portable Cardiac AED Automatic External Defibrillator Monitor
Defi Xpress is a compact, durable, light weighted defibrillator which integrated monitoring, manual defibrillation, AED and pacer (option). It is a professional biphasic defibrillator-monitor suitable for hospitals and clinics.
Two Defibrillation Mode:AED/Manual
Advanced Biphasic Defibrillation Technology
Features
1:Defibrillator
2:Biphasic energy output: 2-360J
3:ECG monitoring
4:SpO2
5:AED
Display
Screen Type: Highresolution display
Screen Size. 7 inches(17.7 cm) diagonally
Sweep Speed: 25mm/sec
Information: Heart Rate. Lead/Pads, AlarmOn/Off, SpO2, AED Functions and Prompts.
Alarm Selection and Limits. Delivered Energy
Defibrillator
Waveform: Biphasic
Energy Display: Monitor display indicates both selected and delivered energy
Charge Prompt Type: Voice and visual prompts
Electrode Impedance Measurement Range: O- 250 ohms
ECG Monitoring
| | |
| --- | --- |
| Patient Connection | 3-lead ECG cable, or 5-lead ECG cable, paddles |
| Lead Selection | Displayed on monitor, paddles, I,I,Il,AEl,AVR, AVL, AVF, V |
| ECG Size | 0.25, 0.5, 1, 15, 2, 4 cm/mV diplay on monitor. |
| Heart Rate | 20- 300BPM |
| Heart Rate Alarm | On/Off displayed on monitor, user- selectable |
| Smart Alarms | Beeper/voice prompts indicate shockable rhythm |
Battary
Type: Rechargeable, NiMH battery. 12V
Operating Time: For a new, fully charged battery 60 defibrillator discharges at maximum energry, or 3 hours minimum of continuous
ECG monitoring.
Additional paremeters will effect operating time with different functions.
SpO2 Module
Measurement Range: 30~100%,±2% between 80%~90%,others ±5%
Alarm Range: User set high limit and low limit
Alarm Accuracy: ± 1O% within setting values
Alarm time Accuracy: less than 12 sec
Recorder
Paper: 50mm thermal
Speed: 12 5mm/sec, 25mm/sec, 50mm/sec.User-selectable 6-second delay
Printing Method: High-resolution thermal array print head
Printout Modes: Manual or automatic, user- -configurable
On/Off Control: Front panel and paddle
Automatic Function: 9- second recording initiated by alarm
activation or defibrillator charge or defibrillator discharge
AED Mode
AED Function: Auto analyze and charge x3 with programmable auto energy level selection,screen prompts, and voice prompts
Shockable Rhythms: Ventricular fibrillation
Ventricular tachycardia
QRS complex wave duration
Charge Control: Control on device front panel, press key on paddle
Manual Mode
Energy Selection: Selectable at2, 5,7, 10, 20, 30, 50, 70,100, 150, 200, 300, 360 joules
Synchronized Mode: Synchronizes defibrillator pulse to patient's R-wave.
"SYNC" message displayed on monitor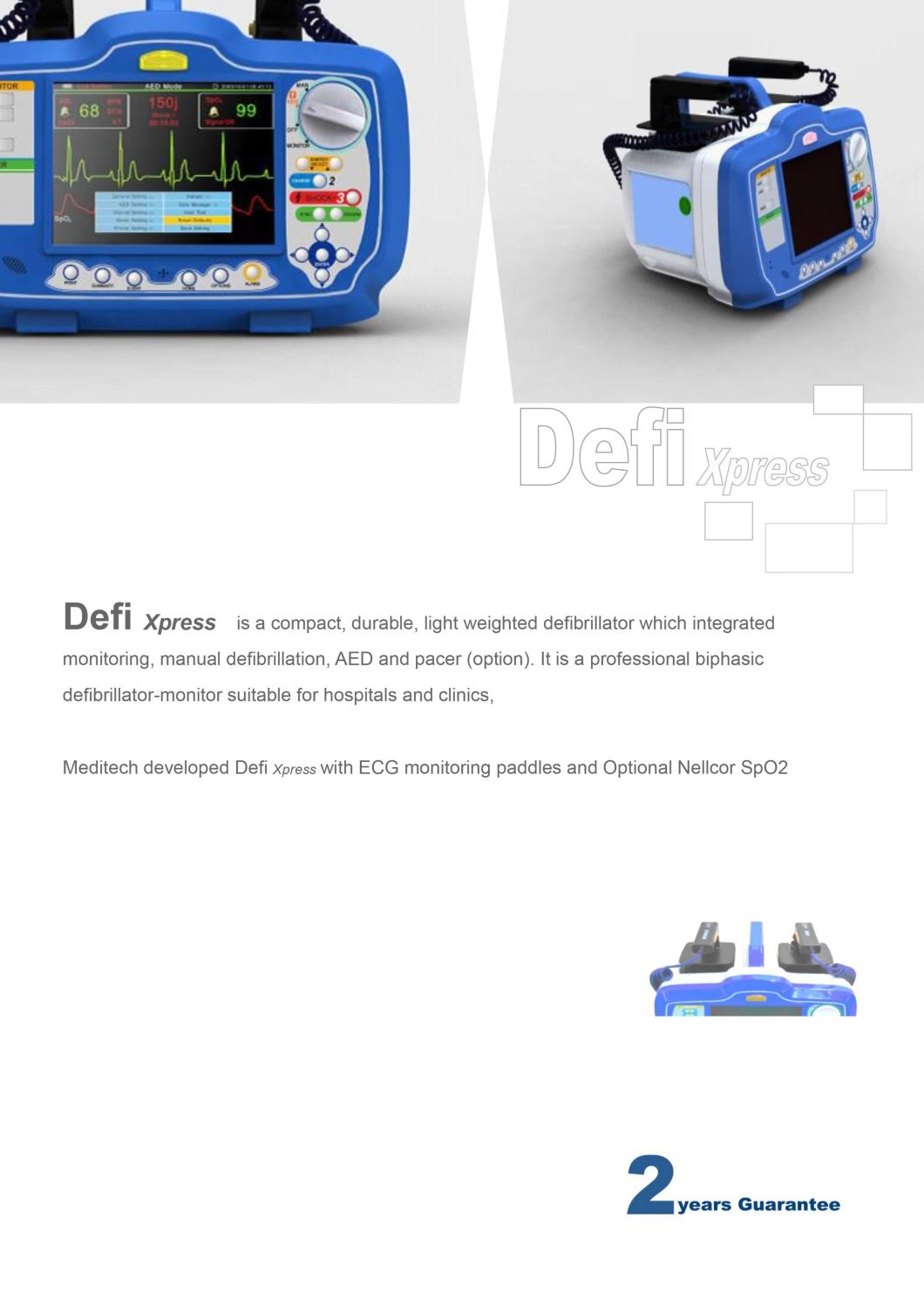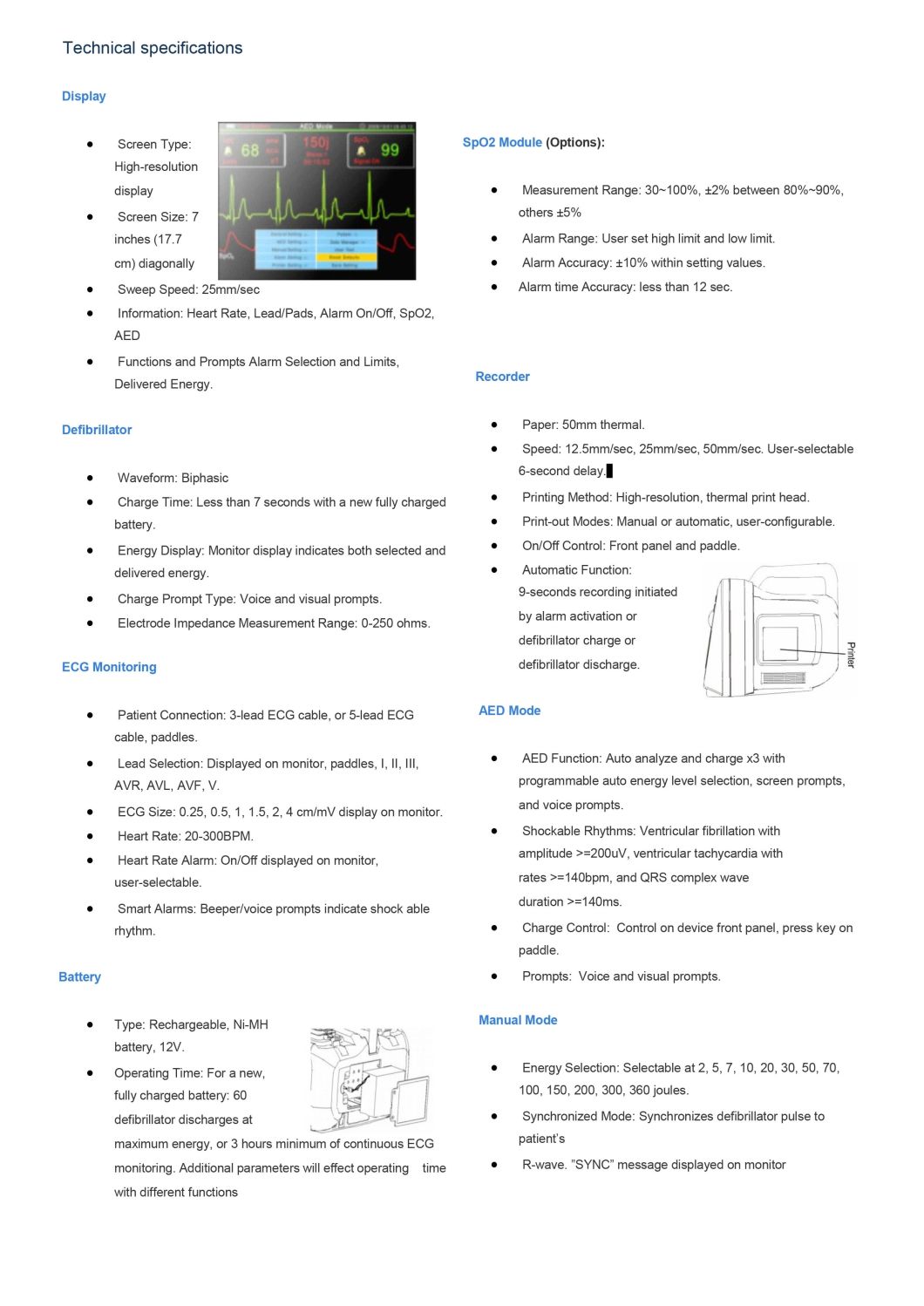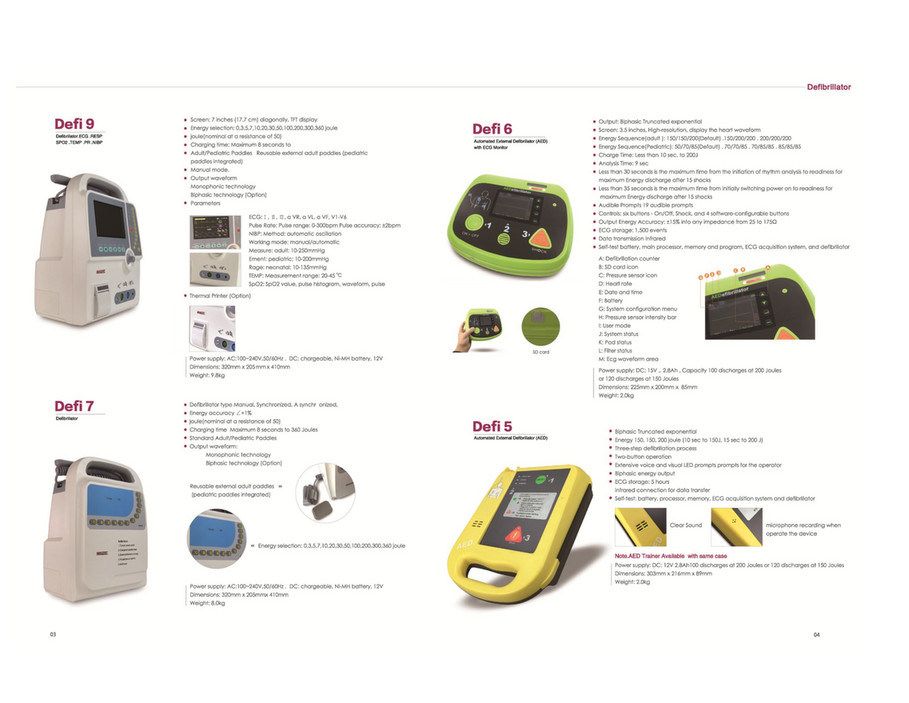 Company Introduction Wuhan Darppon
is one of the leading medical equipment manufacturers and distributors in China since 2009. Dedicated to product development and production by independent teams, Darppon established Electrosurgical Unit, Patient Monitor, Electrocardiograph and Home Care production lines step by step, and we have passed ISO 1234 and CE certificates for all our products.
Up to now, Darppon specialize in offering more than 100 types of products which including Electrosurgical Unit, Patient Monitor, Electrocardiograph, Medical Imaging System, Infusion/Syringe Pump, Defibrillator, Home Care and Veterinary products etc. At present, Darppon products have been exported to over 100 countries and regions.
Inheriting the people-oriented principle, Darppon endeavor to creates united, competitive and positive working environment for our teams. Also, we always dedicate to research and develop advanced technology and products and hope to bring the highest satisfaction our customers worldwide.