2.4"TFT LCD TFT Display LCD Module TFT Monitor Ili9341 TFT Screen Display I2c

YT24C007 is a color active matrix thin film transistor (TFT) liquid crystal display without polarizer. This model is composed of amorphous silicon TFT as a switching device. It is a transmissive type display operating in the normally white mode.
This TFT LCD has a 2.4-inch diagonally measured active display area with 240 x 320 dot (240 horizontal by 320 vertical pixel) resolution. Each pixel is divided into Red, Green, Blue dots which are arranged in vertical stripes.



General Specifications
| | | | | |
| --- | --- | --- | --- | --- |
| NO. | Item | Specification | Unit | Remark |
| 1 | LCD Size | 2.4 | inch | - |
| 2 | Panel Type | T N | - | - |
| 3 | Resolution | 240x (RGB) x 320 | pixel | - |
| 4 | Display Mode | Normally White | - | - |
| 5 | Display Number of Colors | 262K | - | Note |
| 6 | Viewing Direction | 12'Clock | - | - |
| 7 | Contrast Ratio | 400(min) | - | - |
| 8 | Luminance | 300(TYP) | cd/m2 | Note |
| 9 | Module Size | 42.72(W) ×60.26( L) ×2.3(T) | mm | Note |
| 10 | Active Area | 36.72( W) × 48.96(L) | mm | - |
| 11 | Pixel Pitch | 0.153(W ) x 0.153(L) | mm | - |
| 12 | Weight | - | g | - |
| 13 | Driver IC | ILI9341V | - | - |
| 14 | Driver IC RAM Size | RAMLess | bit | - |
| 15 | Light Source | 4LEDs White | - | - |
| 16 | Interface | SPI | - | - |
| 17 | Operating Temperature | -20~70 | ºC | - |
| 18 | Storage Temperature | -30~80 | ºC | - |
Outline Dimension (unit: mm)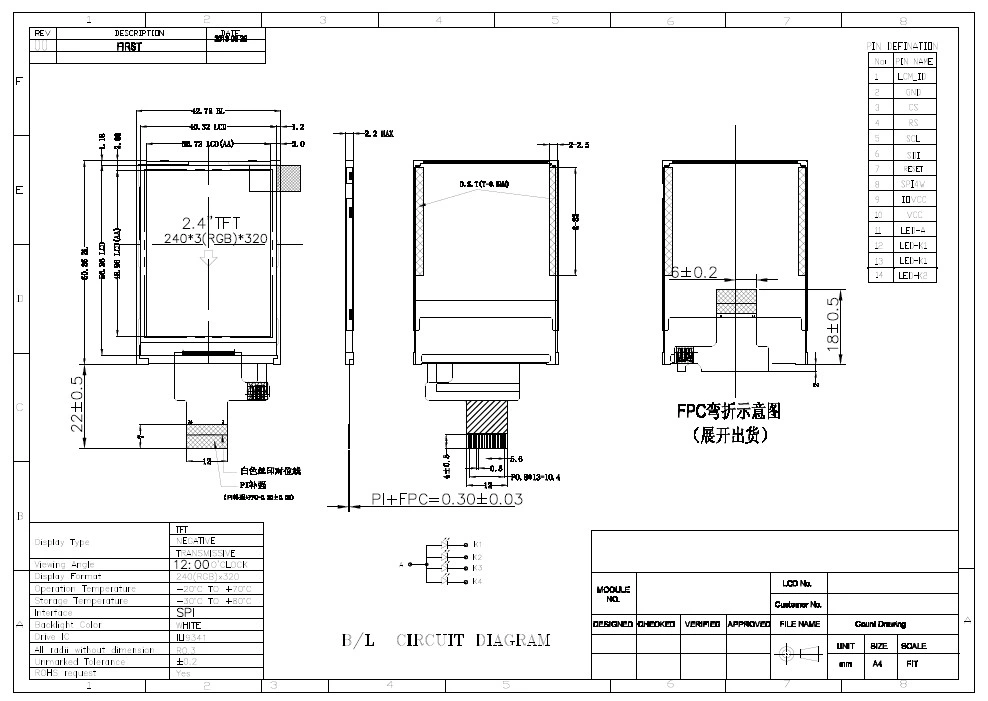 Related Products
TFT-LCM(mm)

Size

Model No.

Resolution

H

V

T

Golden finger spacing

Interface

PIN

IC

2.4

YT024B012-V4

240x320

42.72

60.26

2.30

P0.8/W0.4

MCU HIGH8bit

37

ILI9341

2.4

YT024B012-V5

240x320

42.72

60.26

2.30

P0.8/W0.4

MCU HIGH8bit

37

ILI9341

2.4

YT024B012-V6

240x320

42.72

60.26

2.30

P0.8/W0.4

MCU HIGH8bit

37

ILI9341

2.4

YT024B012-V6-NEW

240x320

42.72

60.26

2.30

P0.8/W0.4

MCU HIGH8bit

37

ILI9341

2.4

YT024B012-V7

240x320

42.72

60.26

2.30

P0.8/W0.4

MCU HIGH8bit

37

ILI9341

2.4

YT024B012-V8

240x320

42.72

60.26

2.30

P0.8/W0.4

MCU HIGH8bit

37

ILI9341

2.4

YT024BT012-V8

240x320

42.72

60.26

3.40

P0.8/W0.4

MCU HIGH8bit

37

ILI9341

2.4

YT024B012-V9

240x320

42.72

60.26

2.30

P0.8/W0.4

MCU HIGH8bit

37

GC9301

2.4

YT024B012-V10

240x320

42.72

60.26

2.30

P0.8/W0.4

MCU HIGH8bit

37

NV3029GBA

2.4

YT024B012-V11

240x320

42.72

60.26

2.30

P0.8/W0.4

MCU HIGH8bit

37

ILI9341

2.4

YT024B012-V12

240x320

42.72

60.26

2.30

P0.8/W0.4

MCU HIGH8bit

37

ILI9341

2.4

YT024B012-V13

240x320

42.72

60.26

2.30

P0.8/W0.4

MCU HIGH8bit

37

ILI9341

2.4

YT024B012-V14

240x320

42.72

60.26

2.30

P0.8/W0.4

MCU HIGH8bit

37

GC9301

2.4

YT024B012-V15

240x320

42.72

60.26

2.30

P0.8/W0.4

MCU HIGH8bit

37

GC9301

2.4

YT024B012-V16

240x320

42.72

60.26

2.30

P0.8/W0.4

MCU HIGH8bit

37

GC9301

2.4

YT024B012-V17

240x320

42.72

60.26

2.30

P0.8/W0.4

MCU HIGH8bit

37

GC9301

2.4

YT024B012-V18

240x320

42.72

60.26

2.30

P0.8/W0.4

MCU HIGH8bit

37

GC9301

2.4

YT024B012-V19

240x320

42.72

60.26

2.30

P0.8/W0.4

MCU HIGH8bit

37

GC9301
Why Choose us:
1.Our company established in 2011, and have a long-term cooperation with many well-known company.
2.We have a professional r&d team and technical support.
3.We have a large number of spot inventory and we can ship delivery asap after payment.
4.We are direct agent of these brands,ordering process simple and delivery time short.
5.All screen ship from our company has long warranty and we have enough technical support can provide after-sales service.
FAQ
Q1. How can I trust your product quality?
A:
--Our Raw materials are all ROHS compliant .
--Display is an ISO9001:2008 and ISO9001:2015 Certified company, we've been adhering to the ISO standards strictly in our production.
--Our products are 100% Visual and Function test before shipments.
Meanwhile, we do necessary Aging test and Reliability tests to our TFT Display modules, eg. Store and Operate in High and Low Temperature & High Humidity Environment, ESD and anti-interference test , Drop(with package) and Vibration Test.
Our Touch Screens goes through Salt spray test, Hardness test, Steel ball Drop test, Flatness test, Thermal shock test…
--Our experience and proficiency make the qualification rate always being 99.7% or above.
Q
2
.
Which sizes of LCDs and Touch Panels do you provide
?
A:
--
Small sizes which include: 0.96
"
, 1.22
"
, 1.3
"
, 1.44
"
, 1.54
"
, 1.77
"
, 2.0
"
, 2.4
"
, 2.7
"
, 2.8
"
, 3.0
"
, 3.2
"
, 3.5
"
, 3.95
"
, 3.97
"
, 4.3
"
, 5
"
, 5.6
"
, 6.86
"
.
--Middle sizes which include: 7
"
, 8
"
, 9
"
, 10.1
"
, 10.2
"
, 13.3
",14.1",15.6",17",21.5",23
Q
3
. Can I have a sample order of before formal order?
A:
Yes, sample order is always welcome for new projects or replacement of running projects. We have stock of many standard models of TFT LCD modules and Touch screens from 0.96inch to 13.3inch , which means delivery is able to be made the same day as order.
Q
4
. What is the lead time for Sample order and Mass Production order?
A:
--For LXDisplay standard products, the lead time for samples is usually 1-7 days, for mass production it could be as fast as 10 days.
--For Customized products,
We are able to get new FPC ready in 7days, new Backlight in 15days, and new Capacitive touch panel or Resistive touch panel in 18days.
Mass production of special products could be as fast as 3weeks.
--In summary, based on our years of big output, we have been keeping good relationship with LCD panel, IC and other material suppliers, we had a steady supply even when there was heavy shortage of materials.
Q
5
. Do you have MOQ requirement?
A:
Yes, it depends on different sizes of products. Please refer to our sales, thanks.
Q
6
. How do I work with you on Customized products?
A:
Firstly please provide us the description of your special requirements, any Drawing or Specification---Our engineers will work out the compatible solution and also mould cost (if any)---We provide Drawing and Specification for Approval---We provide samples for approval after reliability test and aging test---We make modification if necessary---We do small quantity of trial order (if required)---We do mass production.
Q
7
. Can I have my own silk screen Logo, Part Number or small label?
A:
Yes, Definitely. It may requires MOQ, please refer to our sales, thanks.
Q
8
.How long is the warranty and what is your after-sales service?
A:
Usually 12 Months.
If there is any defect within 12months from receiving products, please contact our sales, we will respond within 24hours. If we require any product to be returned to us, the shipping cost will be fully paid by us.
Q
9
. Do you have any shipping account and can you quote favorable shipping cost?
A:
Yes, we have been working with DHL, Fedex more than 11 years, our shipping accounts were granted discount as much as 85% off . Please feel free to ask our sales no matter it is sample or formal order shipment.
PRECAUTIONS
1.HANDLING
1.1.Polarizer Cleaning, Petroleum ether (or N-hexane) is recommended for cleaning the front/rear polarizers and reflectors, acetone, toluene and ethanol are not allowed to avoid damaging the surface.
1.2. Body grounding, must wear Anti-ESD wrist strap while pick up LCDs.
1.3. FPC Soldering, less than 300ºC/3S, solder must be grounding on grounding bench.
1.4. If use electric Screwdriver to do assembly, screwdriver must be grounding.
2.STORAGE
2.1. Keep in a sealed polyethylene bag.
2.2. Keep in a dark place.
2.3. Keep in temperature between 0°C and 35°C.
NOT
allowed at 70°C for more than 160 Hours, or at -20°C for more than 48 Hrs.
3.SAFETY
If liquid crystal leak out of a damaged glass cell, DO NOT put it in your mouth or touch eyes, if the liquid crystal touch your skin or clothes, please wash it off immediately using soap and water.
4.LIMITED WARRANTY
Unless otherwise agreed between ADIA and customer, ADIA will replace or repair any of its LCD modules which are found to be functionally defective when inspected in accordance with ADIA LCD acceptance standards (copies available upon request) for a period of one year from date of shipments. Cosmetic/visual defects over specs must be returned to ADIA within 30 days of shipment. Confirmation of such date shall be based on freight documents. The warranty liability of ADIA limited to repair and/or replacement on the terms set forth above. ADIA shall not be responsible for any subsequent or consequential events.
4.1RETURNING LCM UNDER WARRANTY - TERMS AND CONDITIONS
4.1.No warranty can be granted if the precautions stated above have been disregarded. The typical examples of violations are :
- Broken LCD glass.
- Circuit modified in any way, including addition of components.
4.2.Module repairs will be invoiced to the customer upon mutual agreement. Modules must be returned with sufficient description of the failures or defects. Any connectors or cable installed by the customer must be removed completely without damaging the PCB's eyelet, conductors and terminals.
Company profile
Founded in 2011, Shenzhen Yada Xingye Technology Co., Ltd. is a high-tech private enterprise specializing in R & D, production and sales of LCD, LCM, TFT color LCD, touch screen and industrial serial port screen. And can provide a complete set of display screen and display scheme (PCBA).
It has a variety of standard and differentiated LCD module (LCM), LCD and TFT color display products. Make LCD and LCM with various specifications and technical requirements according to customer requirements. The products are widely used in instruments, smart phones, tablet computers, POS machines, medical equipment, car machines, intelligent robots, smart home, intelligent wearable products, UAVs, VR / AR eyes, military products and other fields. The products strive to achieve high quality, micro power consumption, fast delivery, reasonable price and timely technical support. With a number of well-known enterprises at home and abroad to carry out extensive cooperation, products have won wide market application and recognition.
The company attaches great importance to product quality and strictly implements IOS9001 and RoHS management. Stable quality, professional technical support and timely service are the commitment of ADIA to customers. Today, the TFT market is more and more widely used. With the consistent persistence, ADIA works hard to create a professional and well-known manufacturer of TFT display screen industry together with customers and suppliers.