Product Description
Feature
Specification
Unit
Display Spec
Brand
Wise
-
Size
9.0
inch
Resolution
1280*800
dots
Pixel pitch
0.192(W)x 0.190(H)
mm
Display Mode
TN/NW
-
Viewing Direction
6
o'clock
Gray Scale Inversion Direction
12
o'clock
Luminance
250
cd/m2
Mechanical
Characteristics
LCM (W * H * D)
206.76*135.06*5.40
mm
Active Area (W * H )
193.92*121.20
mm
With /Without TP
With RTP
-
LED Numbers
36-LED
pcs
Operation temperature
-20~+70
ºC
Storage temperature
-30~+80
ºC
Electrical
Characteristics
Interface
8BIT LVDS/40PIN
-
LCM Power Supply
3.3
V
LED Power Supply
9.0
V
Color Depth
16.7M
-
LCM Driver IC
TBD.
-
CTP Driver IC
-
-
Pin No.

Symbol

I/O

Function

1

VCOM

P

Common voltage

2-3

VDD

P

Power for digital circuit

4

NC

-

No connect

5

REST

I

Global reset pin

6

SBYB

I

Stand mode:




SBYB=1,normal operation




SBYB=0, timing control, source driver will turn off, all output is hight-Z

7

GND

P

Ground

8

RXIN0-

I

-LVDS differential data input

9

RXIN0+

I

+LVDS differential data input

10

GND

P

Ground

11

RXIN1-

I

-LVDS differential data input

12

RXIN1+

I

+LVDS differential data input

13

GND

P

Ground

14

RXIN2-

I

-LVDS differential data input

15

RXIN2+

I

+LVDS differential data input

16

GND

P

Ground

17

RXCLKIN-

I

-LVDS differential clock input

18

RXCLKIN+

I

+LVDS differential clock input

19

GND

P

Ground

20

RXIN3-

I

-LVDS differential data input

21

RXIN3+

I

+LVDS differential data input

22

GND

P

Ground

23-24

NC

-

No connection

25

GND

P

Ground

26

NC

-

No connection

27

DIMO

I

Blacklight CABC controller signal output

28

SELB

I

6bit/8bit select




H:6bit, L:8bit

29

AVDD

P

Power for analog circuit

30

GND

P

Ground

31-32

LED-

P

LED Cathode

33

L/R

I

Horizontal inversion

34

U/D

I

Vertical inversion

35

VGL

P

Negative power for TFT

36

CABCEN1

I

CABC H/W enable

37

CABCEN0

I

CABC H/W enable

38

VGH

P

Positive power for TFT

39-40

LED+

P

LED Anode
About us
1. Full-spectrum of standard product models.
2. Flexibility and fast turn-around in customization design capability.
3. Focus on middle / small size LCD/LCM design & customized & manufacture professional factory&trading company.
4. Insisting on quality policy, provide high-quality system service.
5. High flexible production capacity & high trust delivery on-time performance.
6. A strong and stable close relationship with customers.
Our advantages
1. We are a professional designer manufacturer of LCD module, capacitive and resistive touch module, customized tempered touch glass panel.
2. We have the
IATF16949 certificate
issued by TUV, which can produce automotive-grade LCD display modules that are higher in impact resistance, reliability, consistency, life, and manufacturing standards than ordinary industrial products.
3. We are good at
ODM and OEM
, product specification, LOGO, and packaging can be customized.
4. We are
good at the
development of the display module
in the industrial field and provide the total solution of the capacitive and resistive screen.
5. We have
6 production lines
, with the shipment of more than
3,000,000 pieces per year
.
6. Our products can support
long-term supply
, Maximum supply cycle is
5-10 years
.
7. We combine touch screen technology with an LCD display module, which greatly saves your cost.
Perfect after-sales service
will be one of the reasons why you choose us.
Applications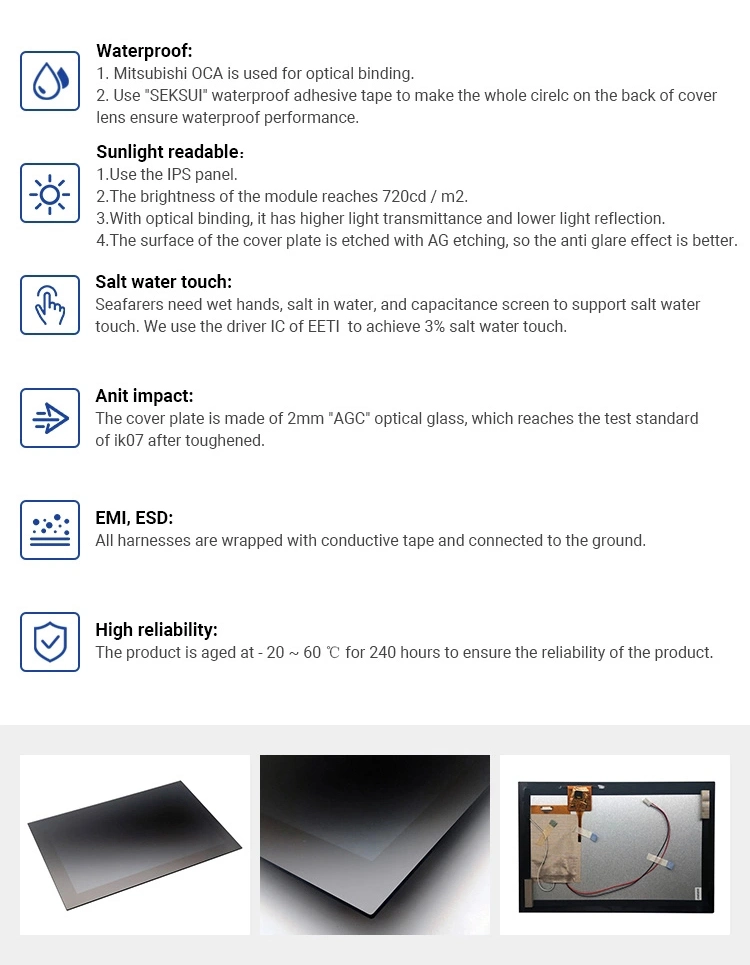 The TFT modules we make can apply to the fields:
Such as Industrial Moblie,ATM/POS/KIOSK,Auto,Construction,IP phone,MFP,Medical(M),Home Health,Measurement&Tester,Gas/Oil station,HMI/FA,HiFi audio,Home automatic,Marine,White goods,etc.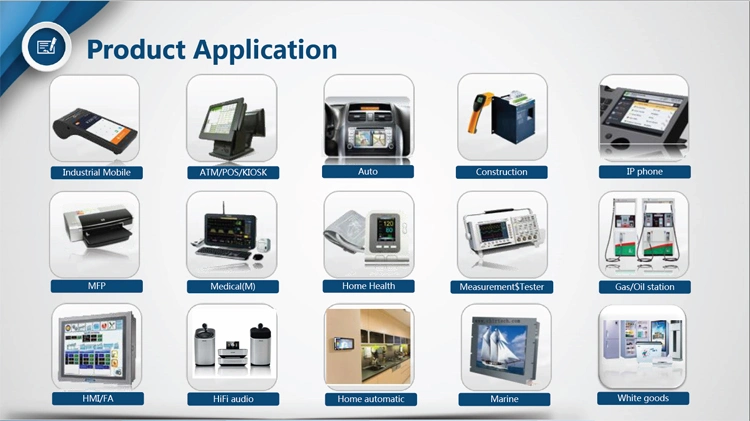 Customization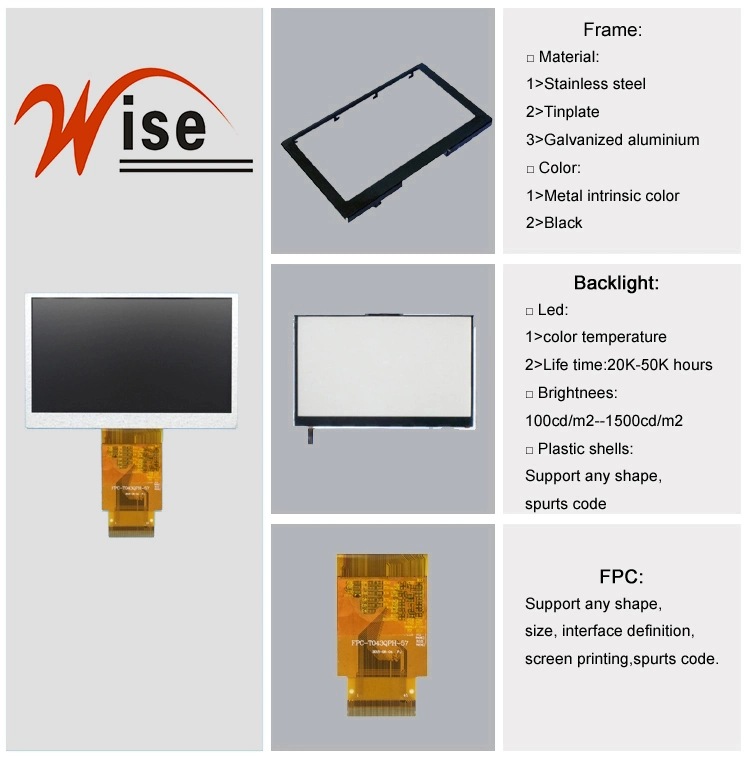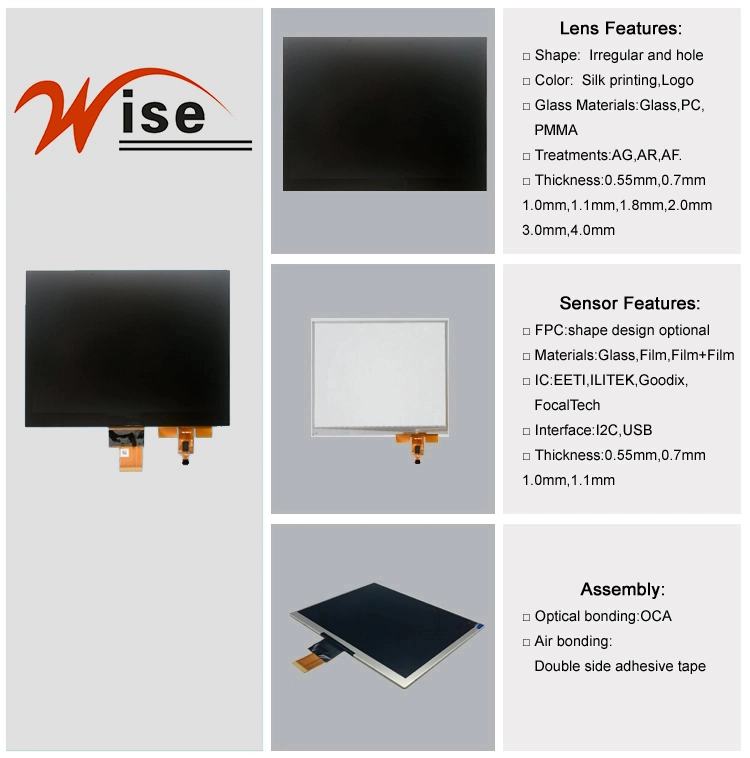 | | |
| --- | --- |
| Customized process | Wise process |
| 1> Customer requirements: | Size, resolution, brightness, interface, CTP specification, and other requirements, or to draw, sample for evaluation. |
| 2> Wise provides solutions: | Evaluate and propose solutions according to customer requirements. |
| 3> Customer confirmation: | The customer confirms the solution provided by Wise. |
| 4> Wise offer: | Provide reasonable and advantageous tooling cost quotation and confirm product unit price. |
| 5> Customer payment model fee: | The customer pays the tooling cost. |
| 6> For drawing: | Wise design and issue formal drawings for customer's confirmation. |
| 7> Customer confirms drawings: | The customer has confirmed whether the engineering drawings of Wise meet the requirements. Please sign back. Our company will change to meet the requirements if necessary. |
| 8> Make Tooling: | According to the drawing confirmed by the customer, Wise will make the sample. |
| 9> Sample confirmation: | Send the sample to the customer for confirmation within the agreed time. |
| 10> Sample debugging: | If customers encounter any difficulties in sample debugging, Wise's engineers will provide technical support as soon as possible. |
| 11> Sample confirmation: | The customer's sample debugging is completed, and the specification and effect are satisfied. |
| 12> Production: | Determine the final unit price, quantity, and delivery time after customer orders to Wise. |
| 13> Production arrangement: | According to the final sample confirmed by the customer, Wise arranges the material for production scheduling. |
| 14> Delivery order: | Arrange shipment according to customer's quality requirement or Wise standard. |
| 15> After-sales service: | Warranty within one year, provide follow-up technical support. |
Packing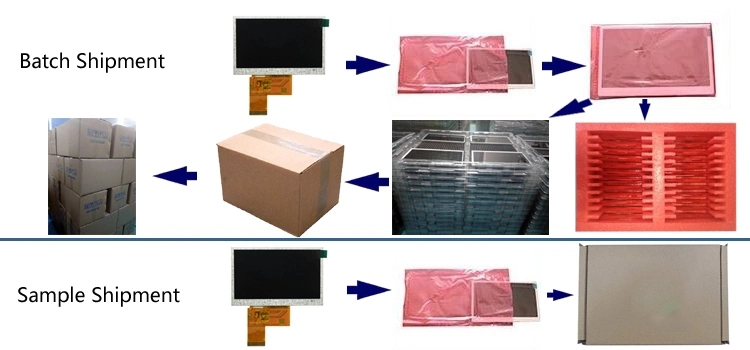 Delivery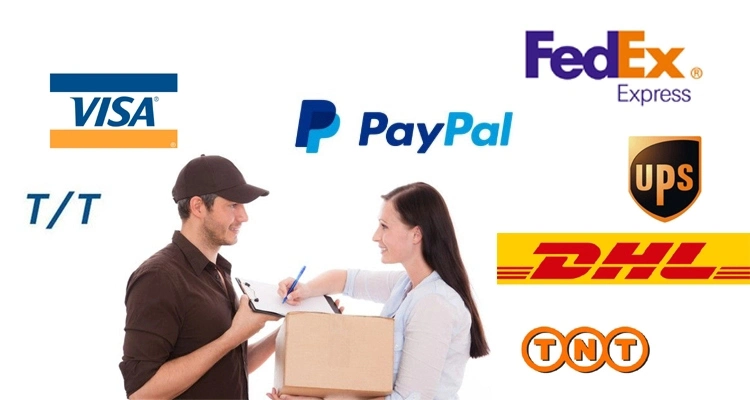 FAQ
Q: Can we customize the product? What cost will be included?
A: The product can be customized, but the TFT LCD module has different tooling cost, which includes FPC, Touch Screen, Backlight, Bezel, and so on.


Q: Payment Terms?
A: Paypal can be accepted for sample, but Credit Card and T/T paid in advance for mass production.


Q: What is your delivery method?
A: EXW Shenzhen by DHL/ UPS / FEDEX/TNT, or ship the goods to your HK or Shenzhenforwarder.

Q: Products are in stock? How long can you deliver?
A: Our inventory is mainly raw materials,semi-finished, and a small number of finished products.
After payment, Samples available in stock will be sent within 3 days; Small batch delivery takes 2-3 weeks; Large batch delivery takes 5-6 weeks

Q: What kind of packaging? The transport process will not be damaged?
A: Our products are divided into two categories, small-medium size use knife card isolation packaging, large size screens are used in aircraft box packaging, all packages are protected by outer box and straps to ensure the safety of material transportation.

Q: How to control the quality of products?
A: The company has a professional quality team, and all products are 100% inspected before shipment.

Q: How long is the warranty and service of the product?
A: Generally the warranty period is one year. It depends on different products.
We guarantee our products to be free from manufacturer defects. Liability under this warranty is limited to the replacement of any product found to be defective under normal use.

Q: What certification could provide?
A: Products by RoHS, CE, SGS certification.

Q: Can you provide product drawings and test reports?
A: According to customer needs, our company can provide product-related information and test reports.

Q: The product specification is in Chinese or English?
A: The version of the product specification in English.

Q: What is the minimum order quantity?
A: All our products have a MOQ requirement, please contact our salesman for detailed information.

Q: Are you open to OEM processing?
A: Yes, we can OEM.

Q: What is the product's application?
The products can be widely applied to the fields of HMI, handheld terminals, household medical products, instruments and apparatus, white goods, oiling machine, auto, and AOI, etc.

I appreciate that if you can contact us if you have any questions about it.



Facebook:https://wisetech.en.made-in-china.com