| | | |
| --- | --- | --- |
| Item | Content | Unit |
| Model No. | LX200D2415 | / |
| LCD Type | TFT Transmissive | / |
| Viewing Angle | 12:00 | O'clock |
| Module outline(W x H x D) | 37.68x51.30x2.15 | mm |
| Active area (WxH) | 31.68 x39.60 | mm |
| Number of Dots | 176(RGB) x220 | / |
| Driver IC | ILi9225G | / |
| Backlight Type | 3 LEDS, Parallel | / |
| Interface Type | MCU 8/16bits | / |
| Input voltage | 2.8 | V |
Company Introduction
Established in 2010, Shenzhen LianXun Optronics Co.,Ltd (Short as "Lianxun" or "LX Display")is a high-tech private enterprise that is engaged in the R&D, manufacturing and marketing of LCD modules.
Main products: 1.44"-10.1"TFT LCD modules

Monthly Output: 9,800,000pcs

Employee: 100-150 persons

Production Area: 2200m2, Office and Warehouse: 800m2.

Production Lines: 3 lines, including one COG and FOG full-automatic production line, in

fully-enclosed dust-free, temperature and humidity controlled workshop.

Main Products

: including 1.44",1.5",1.54",1.77", 2.0",2.4", 2.7", 2.8", 3.0",3.5", 4.3", 5.0", 7.0",9.7",10.1". RTP and CTP products.
OUR MAIN ADVANTAGES:
The leaders in LianXun owns an average of 8-12 years experience in the LCD and LCM industries.
We are always able to provide mass production products within 2-4 weeks. We are able to guarantee stable supply.
We are always striving to provide reliable and cost-effective products by our
advanced equipments and
rich resources. Meanwhile, our
timely delivery , outstanding producing ability, stringent quality control systems are making Lianxun one of the top suppliers of LCD Modules in China.
We have strong R&D capabilities, responsible staffs, and sophisticated manufacturing experience, which all enable us to design, develop, produce LCMs and provide all-round service according to customers' requirements.
We have provided our products to customers over 15 countries and regions across China, Korea, Japan, Malaysia, Brazil, Europe and North America.
Quality Control
We are ISO9001:2008 and also ISO9001:2015 Certified company. We've been adhering to the standards strictly in our production.
We provide environmentally-friendly products compliant with EU requirements: ROHS and CE.
Our products are 100% Visual and Function test before shipments. Meanwhile, All our products must pass necessary tests,
Store and Operate in High and Low Temperature & High Humidity Environment
, ESD and anti-interference test ,
Drop and Vibration Test
. Our experience and proficiency make the qualification rate always being 99.7% or above.
1.44"to 10.1" Products Application
Consumer Electronics, eg, Wearable devices, Smart watch, Car DVR, Advertising player, GPS device, Video card, Pos terminal, IP phone, Vending machine.
Industrial Control and Medical equipment.
Security System, Home Automation and Access Control System like Door-bell.
Customized products and solutions suited for customers' different requirements and application.
who are we in China?
In wearable Devices market
, our 1.54"TFT LCD modules Rank in Top3.
It is Lianxun, made New Mold of 1.54"LCD Panel in 2015,follow closely the requirements and development of Wearable products.
In Car DVR market
, our TFT Products rank in Top 5.
Compatible sizes:2.7",3.0",5.0"
Since 2014.our 4.3",5.0"products have been selling to the No.1 famous High-end brand of Chinese Car DVR providers.
International Market
We are working on more and more customers from USA, Japan, Korea, Germany, Spain, Brazil, Malaysia, Turkey, India...Our TFT Products are applied in Pos Terminal, Medical care ,Industrial, Security, Smart Home System and also Consumer electronics.
PRODUCTS LIST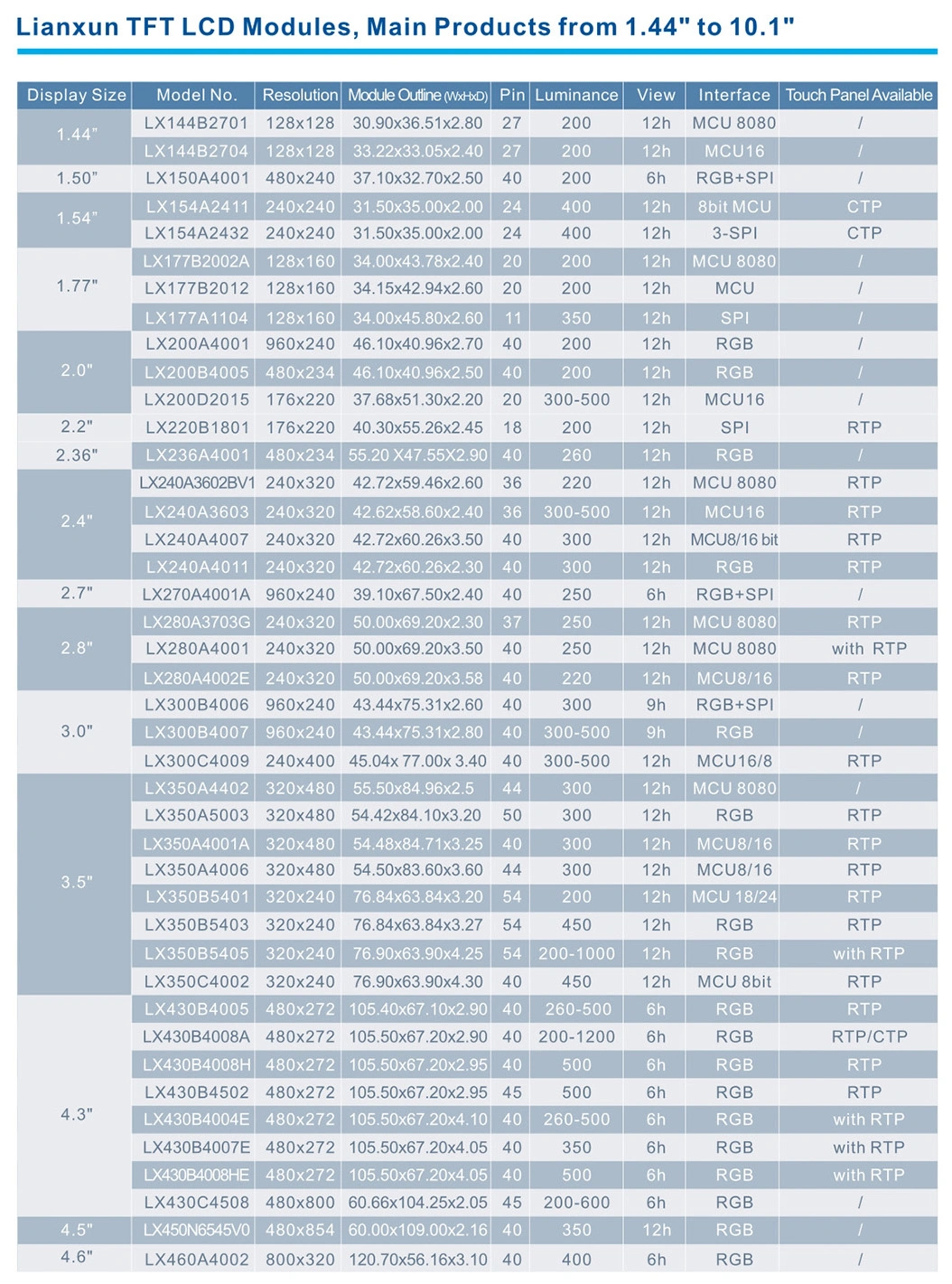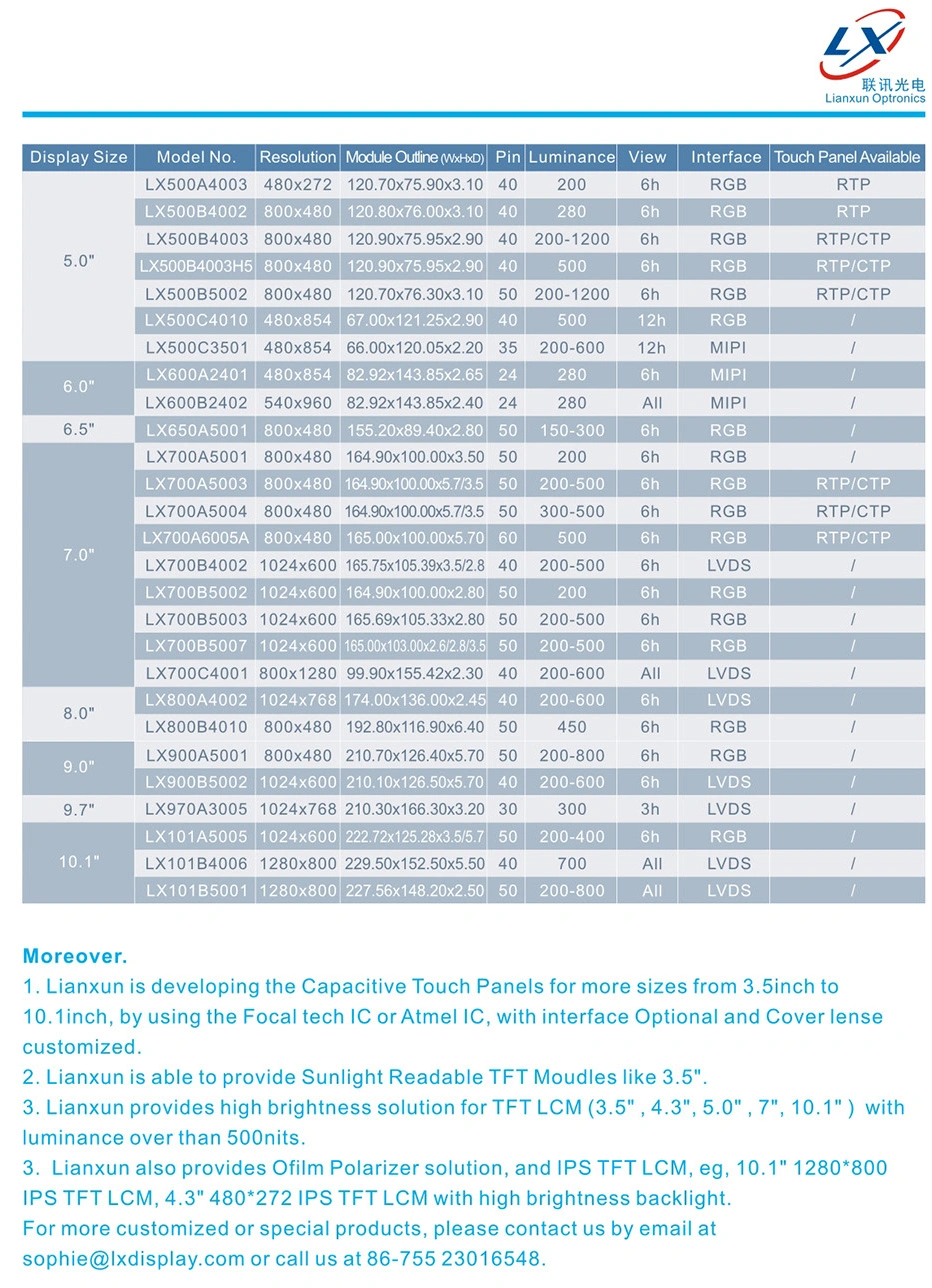 FAQ
Q1. Can I have a sample order?
A: Yes, sample order is always welcome for new projects or as replacement of running projects.
Q2. What is the lead time for Sample order and Mass Production order?
A:
For LX standard products, the lead time for samples are usually 1-7 days.
For Customized products, it depends on the change requirements for FPC, Backlight…
For Mass production, we usually make delivery among 2-4weeks, special size may need some longer time. In summary, based on our years of big output, we have been keeping good relationship with Taiwan LCD panel and IC suppliers, we had a steady supply even when there was heavy shortage of materials.
Q3. Do you have any MOQ?
A: Yes, it depends on different sizes of products. Please refer to our sales. Thanks.
Q4.How long is the warranty?
A: Usually 12 Months. If there is any defect upon using within the warranty period, we require our clients to return the goods to us, with shipping cost paid by us.
Q5. How do I work with you on Customized products?
A: At the beginning please provide us any drawing , Specification, any special requirements…
Our engineers will work on the compatible solution and also moulds cost if any.
We provide samples for approval.
We make modification if necessary.
We do small quantity of trial order.
We do mass production.
Q6.
Can I have my own silk screen Logo, Part Number or small label?
A: Yes, Definitely. While it requires MOQ, please refer to our sales, thanks.
Q7.
What about your Packing?
Can I have my customized products with customized packing?
A: All the products are packed in right way to keep it safe and looks pleasant. Usually for small sizes of products we use tray + carton, for bigger sizes we use foam slot + carton.
Yes, we also design packages according to customers' requirements.
Q8: Are you able to offer enough technical support about your products?
A: Our management team owns an average of 8-12 years of experience in LCD Display/Module industry. Our engineers own sufficient knowledge and field experience.
Q9:
How soon do you usually reply emails?
A: Our responsible sales usually reply WITHIN 24hours.
Q10.

Which express do you often use to make delivery?
A: We usually ship by DHL, UPS, FedEx or SF. It usually takes 3-7 days. Some customers prefer shipping with their own account# , while some clients choose our forwarder agent.
COMPANY INFORMATION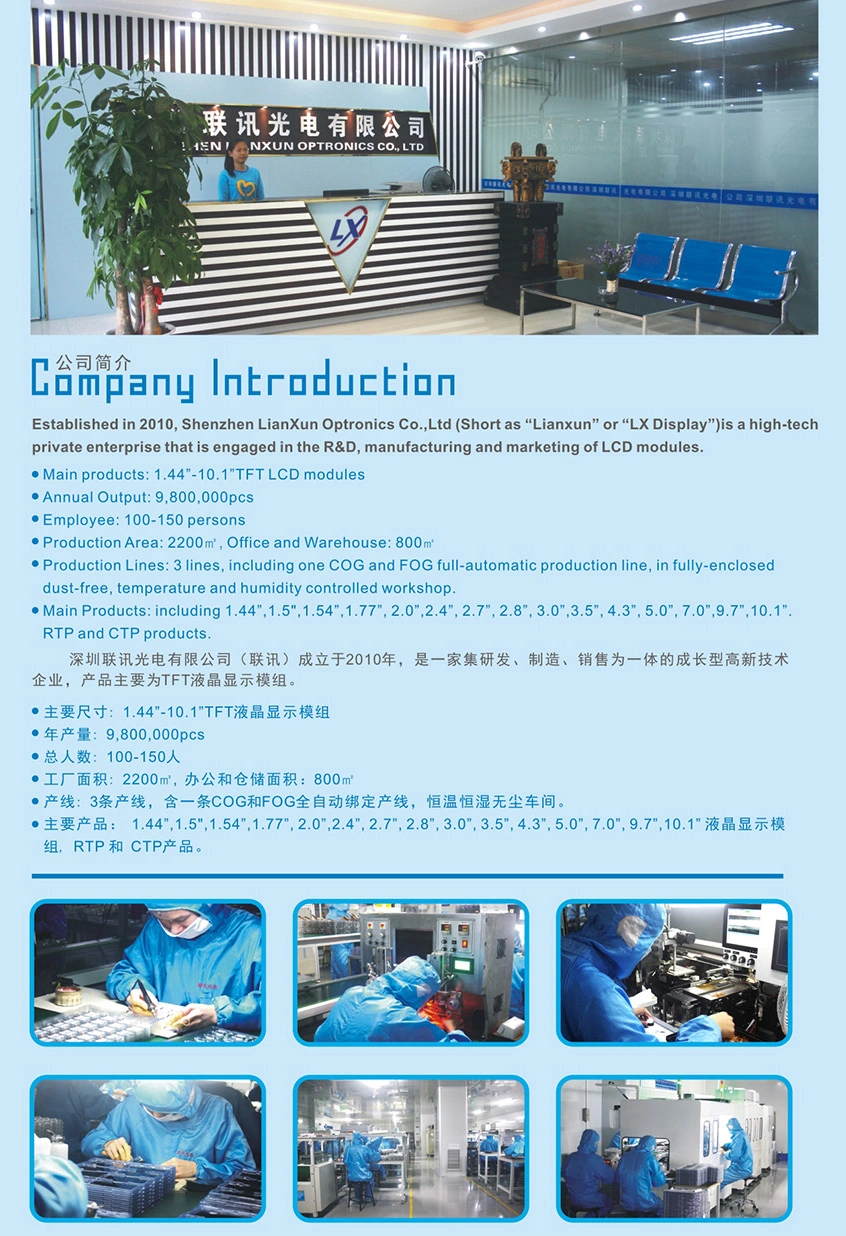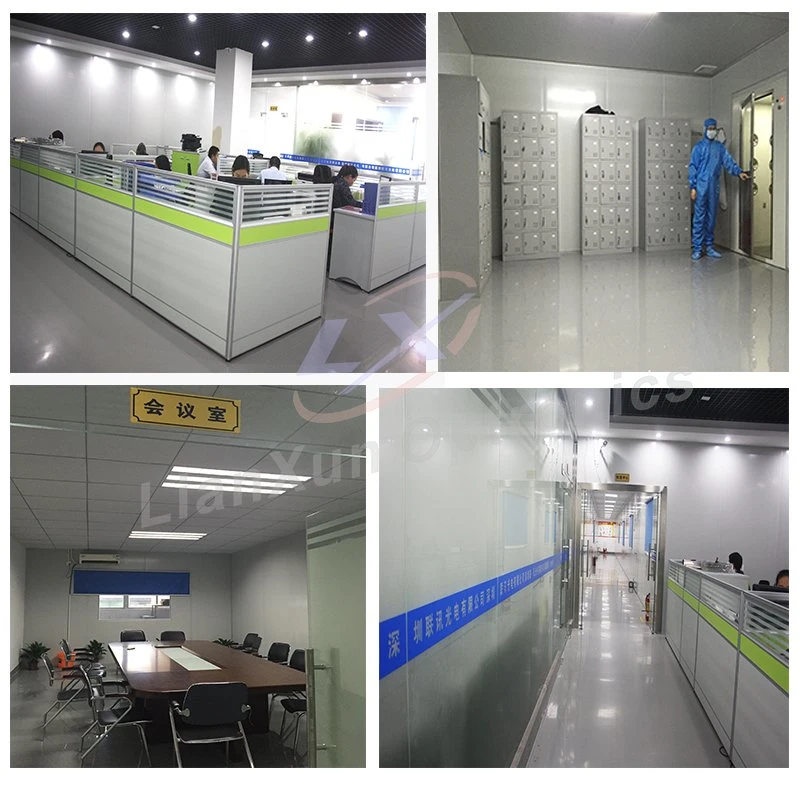 CERTIFICATES